Thought you couldn't afford your own outdoor cabana? Think again. These DIY canopy ideas are proof that, with a little creative flourish, you can create your very own outdoor oasis.
Whether you go all-out with a poolside cabana or keep it simple with a shade sail canopy, there's a DIY project for every skill level and for every backyard (opens in new tab).
An outdoor canopy is a chic way to extend your living space, and maximize the use of your outdoor space, so what are you waiting for?
Stylish DIY canopy ideas for creative cool
1. Make a pergola curtain canopy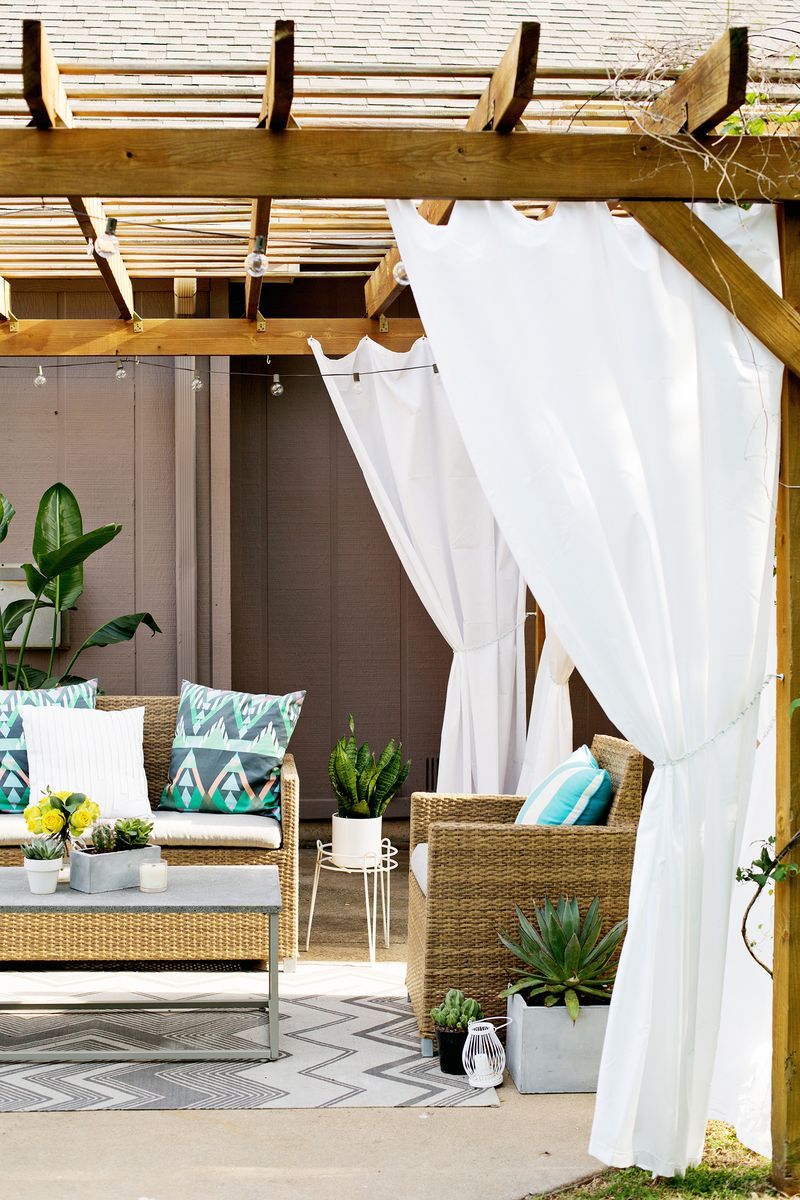 Adding DIY curtains to an existing pergola or structure will instantly elevate the space to cozy holiday cabana vibes.
That's exactly what Laura Gummerman, of abeautifulmess.com (opens in new tab), was chaneling when she chose to give her pergola a curtain canopy refresh. 'I wanted to see if I could bring a little bit of that cabana feel to my backyard pergola with the help of some DIY outdoor curtains,' Laura explains.
It's a good idea to use a weather-resistant outdoor fabric (Sunbrella has good options), but it's not the only option. 'It's totally up to you what kind of fabric you want to use,' says Laura. 'Outdoor fabric can be expensive, so that's why I chose to use regular cotton fabric with a waterproofing spray. You can use plain cotton fabric by the yard, bedsheets, or even drop cloths from home improvement stores. It just depends what dimensions you need and what the weather conditions are where you live.'
After making the curtains herself, Laura attached them to the structure with cup hooks. 'The curtains turned out even better than I imagined, and I love the lightness that they add to the space,' Laura says. 'It definitely feels more secluded (and super cozy) when sitting inside the pergola, and I have to admit that it does make me feel a bit like I'm on vacation in my own backyard.'
2. Create your own shade sail canopy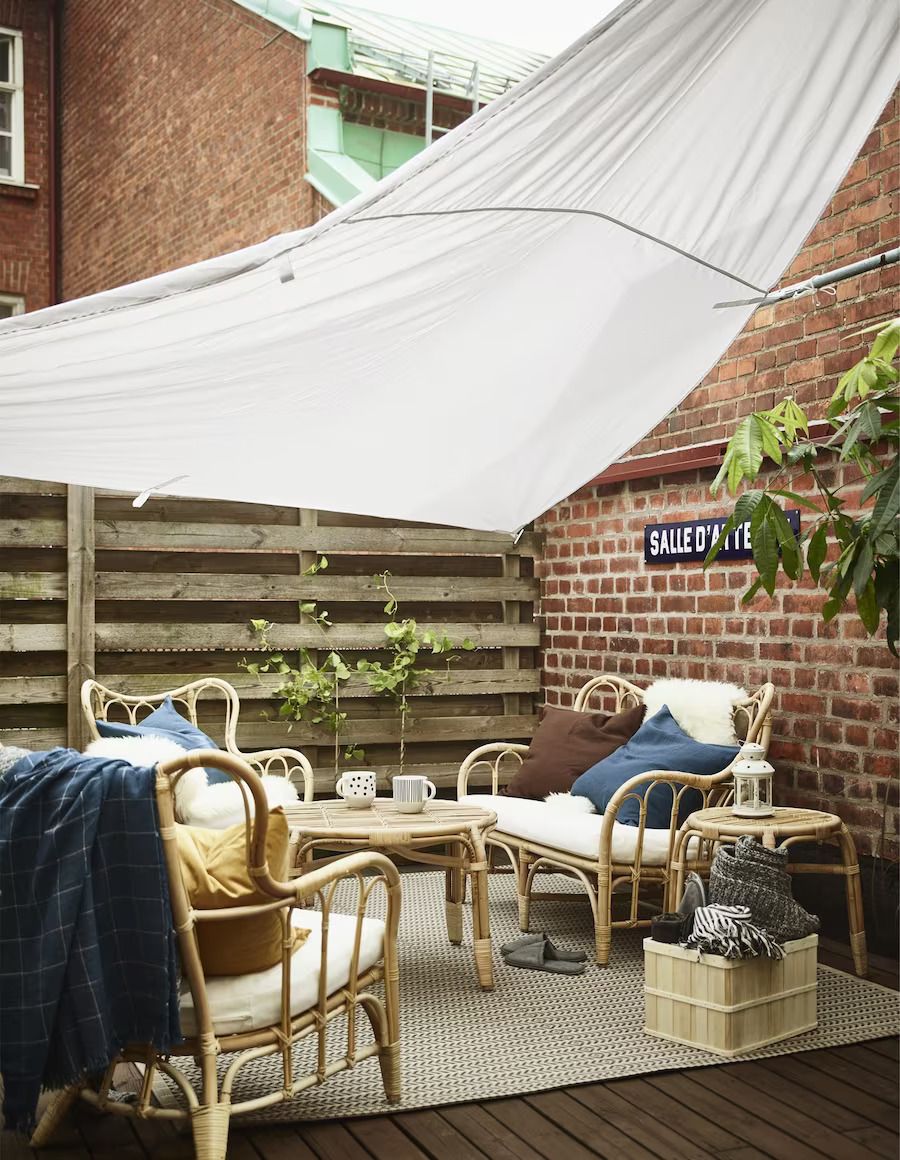 A shade sail makes for an easy DIY canopy idea and is a great choice for larger spaces or small patio ideas.
You can buy shade sails to hang how you like (IKEA hacks are always a good idea for affordable custom looks) or you can make your own shade sail with outdoor material that you can hang from posts, walls or fences.
Finish the space by creating an outdoor living room setup with a stylish lounge set, an outdoor rug, cushions and plants.
3. Chill out on a DIY canopy daybed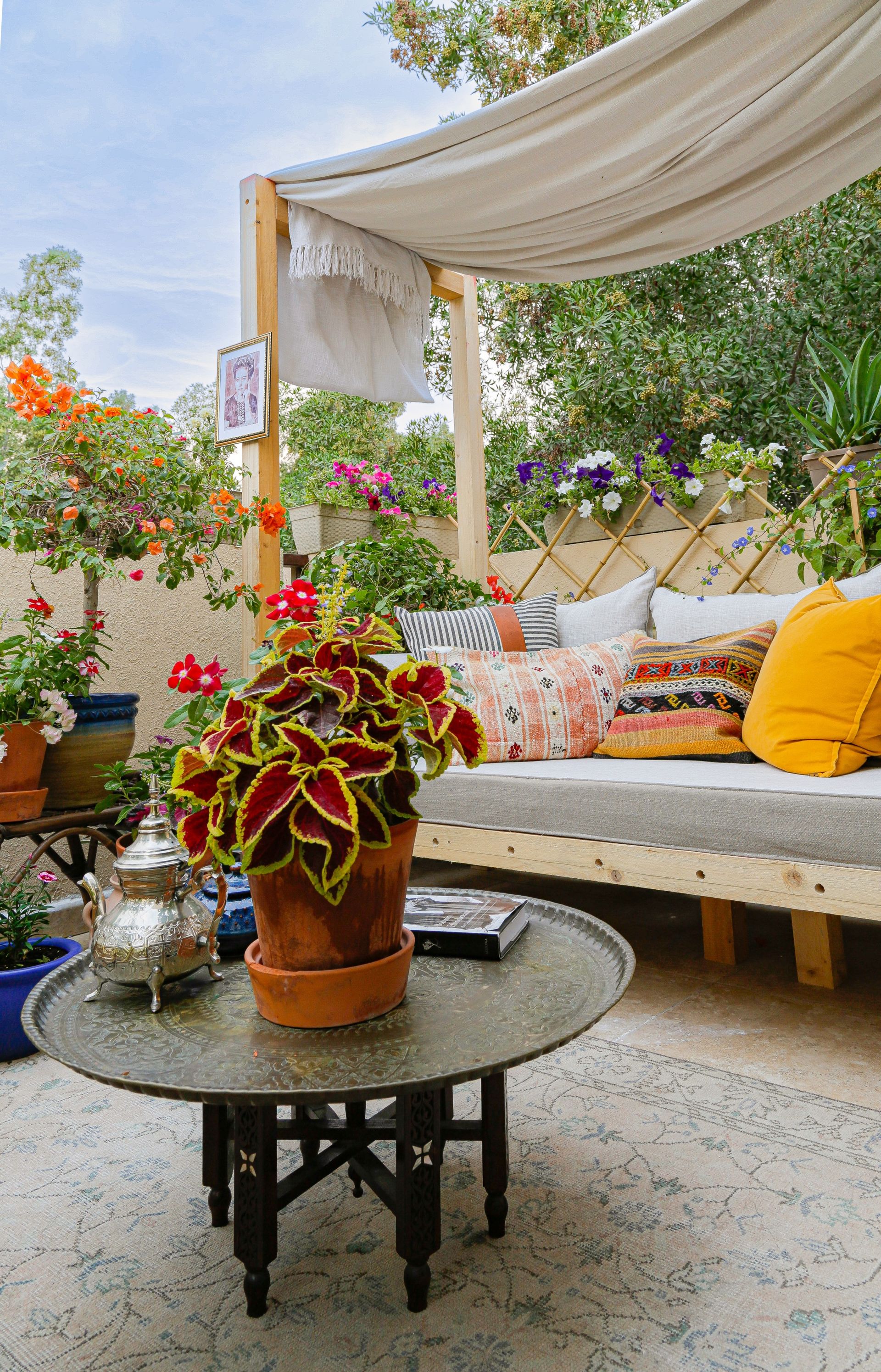 Canopy daybeds can be an expensive purchase, so why not get creative and try making your own version?
Sara, of @sarashomehaven (opens in new tab), did just that and crafted a chic spot to relax and unwind. She says: 'In the midst of COVID-19 lockdowns, outdoor furniture was sold out from virtually every store across the city. We wanted to utilize each inch of outdoor space we had, as spending time at home for months at a time was getting tedious. I gave my husband a picture of a daybed I liked from Pinterest and challenged him to build it. 
'He gathered leftover wood from a construction site nearby and put the daybed together in under a week. We had the seat cushion made professionally using a mix of beautiful white and greige linen fabric. 
'For the canopy, I used an old curtain we already had, folded it and hung it over the top of the daybed, then layered with tribal Turkish cushions.'
4. Construct a Serena & Lily-inspired DIY cabana canopy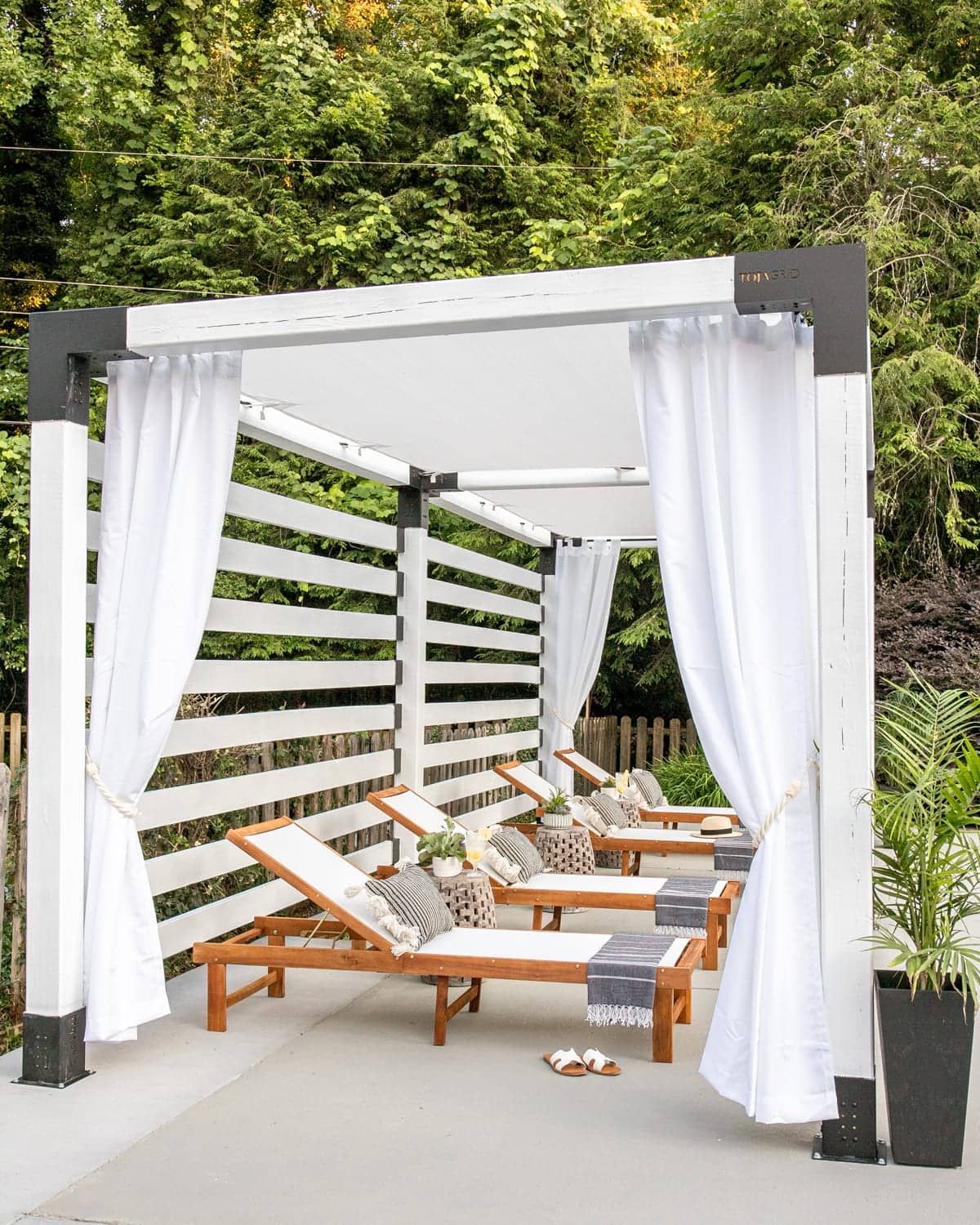 Jet off on holiday without leaving your own backyard with this beautiful DIY canopy idea by Lauren, of blesserhouse.com (opens in new tab).
The pergola was built in just two days, and was inspired by a Serena & Lily cabana that Lauren was coveting.
'My husband and I have been so lucky to have visited a couple of really beautiful places in the last five years,' Lauren says. 'So it felt fitting to style the cabana to remind us of those vacations; it's a little slice of vacation in our own backyard now.'
To style the pool cabana canopy and create an outdoor retreat, Lauren added sun loungers, outdoor stools from Walmart (opens in new tab), and outdoor pillows. 'I added these UV blocking curtains from Amazon (opens in new tab) and outdoor curtain rods (opens in new tab) all around to provide extra shade when the sun comes on from the sides of the pergola.
'We then attached these tiebacks (opens in new tab) so that they'd be easy to keep open and tamed from the breeze when not in use.'
5. Craft a copper pipe cabana canopy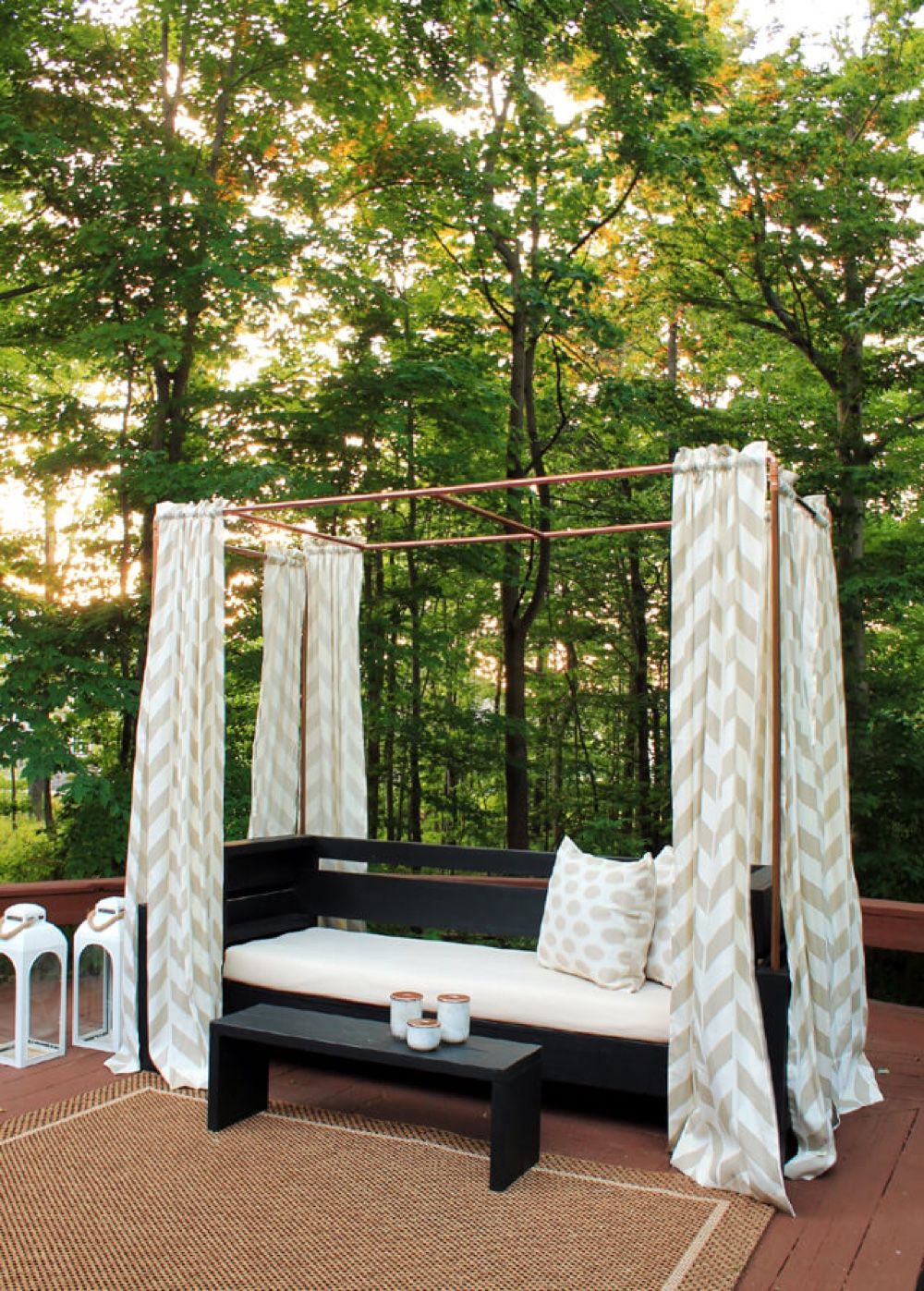 Create an inviting an intimate space to escape to with this unique copper piping cabana project. The cabana canopy was fashioned by Ursula at homemadebycarmona.com (opens in new tab).
'I'm a firm believer in turning your own home into a vacation-like oasis,' she says. 'What better way to do that than make your own outdoor cabana? To give it my own special flair, I chose to make it out of copper pipes as a material that would naturally look stunning, and over time it would patina to look even more amazing.' 
'I love how it turned out,' she adds. 'Since there are so many trees that keep us well shaded, I opted to keep the top uncovered so we could enjoy looking up at the treetops while lounging. Of course, you may want to use your cabana for shade, so you would add a curtain panel over the top.'
'The cabana can stand up to rain, and I don't remove the curtains – I simply chose curtains that were a thick blended material so it would be wrinkle-resistant,' Ursula explains. 'When they get wet, they simply hang dry. I would recommend looking for a plain white, or light colors that won't fade in the sun.'
6. Grow a canopy of vines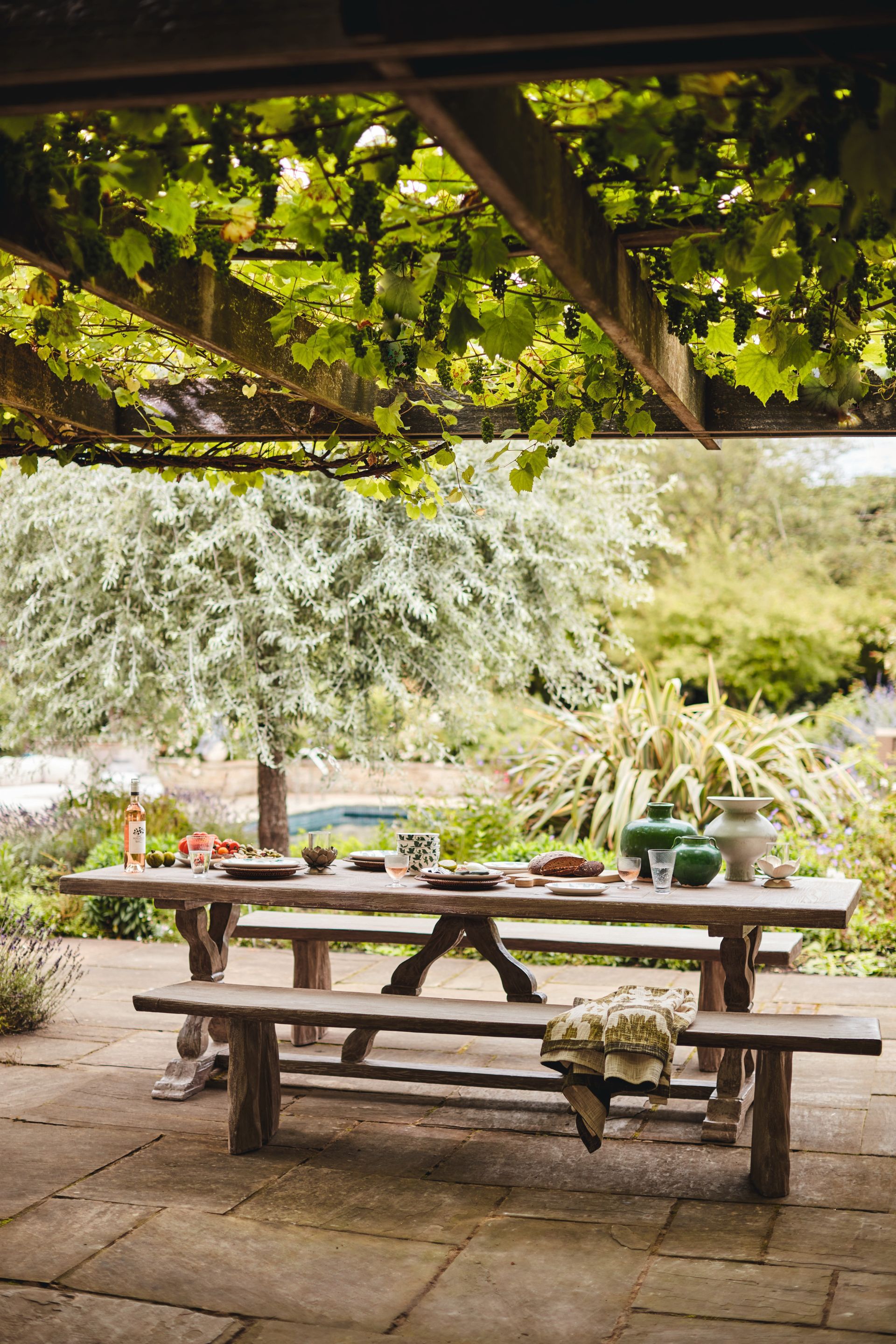 A living canopy is a beautiful way to create a DIY shade for your backyard. It's an option that requires effort and patience but, if you're happy to play the long game, the results are truly rewarding.
So how do you go about it? Andrew Gaumond, Horticulturist & Editorial Director at Petal Republic (opens in new tab) , gives us his top tips. He says: 'Typically, I recommend planting one variety at the base of each pillar of the pergola structure. It's important to consider the types of plants and their inherent soil needs and make any amendments to the soil as necessary to ensure there's a suitable foundation for growth (such as mulching, manure, or nutritional soil supplements). 
'Once planted, climbers will need a little assistance to get going in the right direction. You can help here by twining the soft shoots around the pillar of the pergola in addition to using soft gardening ties, and garden trellis, and ensure the plant is getting sufficient water during early stages of growth.'
He continues: 'Once growth reaches to the top of the pergola, you'll want to start training a little more aggressively to ensure the spread aligns with the overall structure. During the peak growing season, focus on thinning out any significant overcrowding but avoid hard pruning or cutting back until late fall or spring time ahead of the new season.'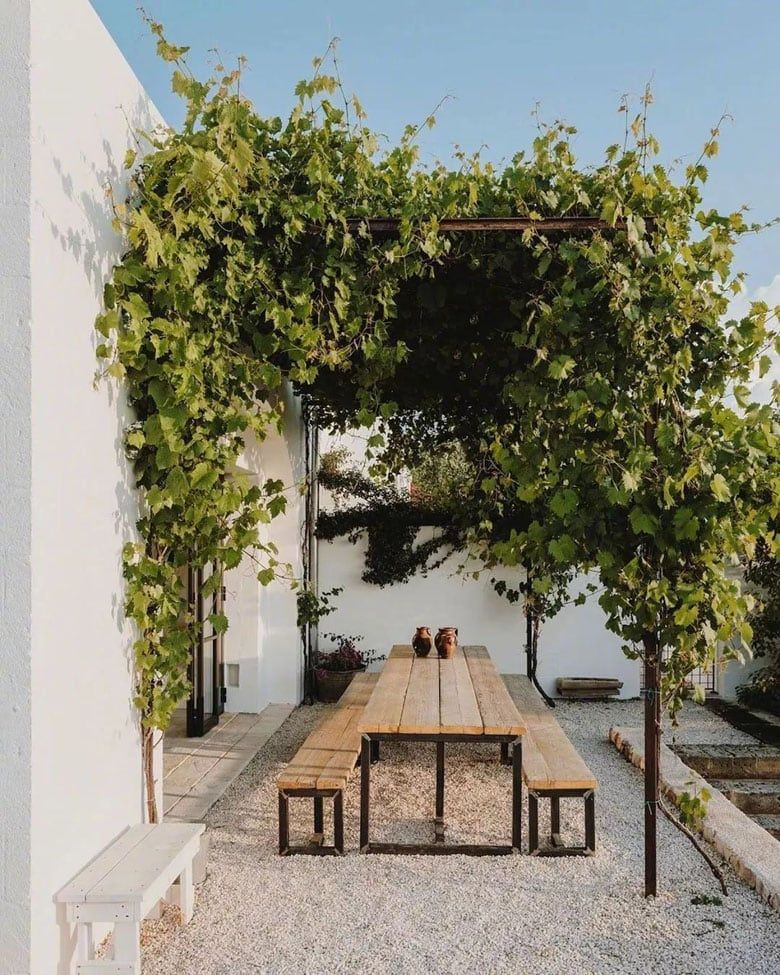 And what plants are good to use? Andrew shares his top suggestions below: 
Clematis: 'With over 300 varieties to pick from, clematis are one of the most popular climbing plants, and are ideally suited to a living canopy,' says Andrew. 'Once planted, they'll require minimal pruning or fuss, boasting a long blooming season from spring through to fall, and will reliably come back year after year. 
Common Jasmine: 'These richly scented flowers will thrive in warm locations throughout the summer months,' Andrew explains. 'Jasmine requires a bit more maintenance to mitigate overcrowded shoots, and are best cut back relatively hard in the late autumn months.'
Passion Flowers: 'For a touch of exotic splendour, passion flowers are a brilliant choice for a pergola,' suggests Andrew. 'They thrive best when trained against south or west-facing aspects, and will tolerate mild frosts (though not harsh winters if you live in a particularly cold climate).'
Wisteria: 'Not many climbing plants offer the stunning visual display that blooming wisteria provides,' states Andrew. 'Whilst not the easiest plant to reliably grow at home, you can get ahead by purchasing a wisteria plant that has already started blooming, and train its vigorous growth. Wisteria thrives in full sun and will need regular pruning and watering during any dry spells. They are considered toxic to some pets (including dogs) which may be a consideration for any pet owners with particularly inquisitive canine pals.'
7. Fashion a pergola canopy with printed fabric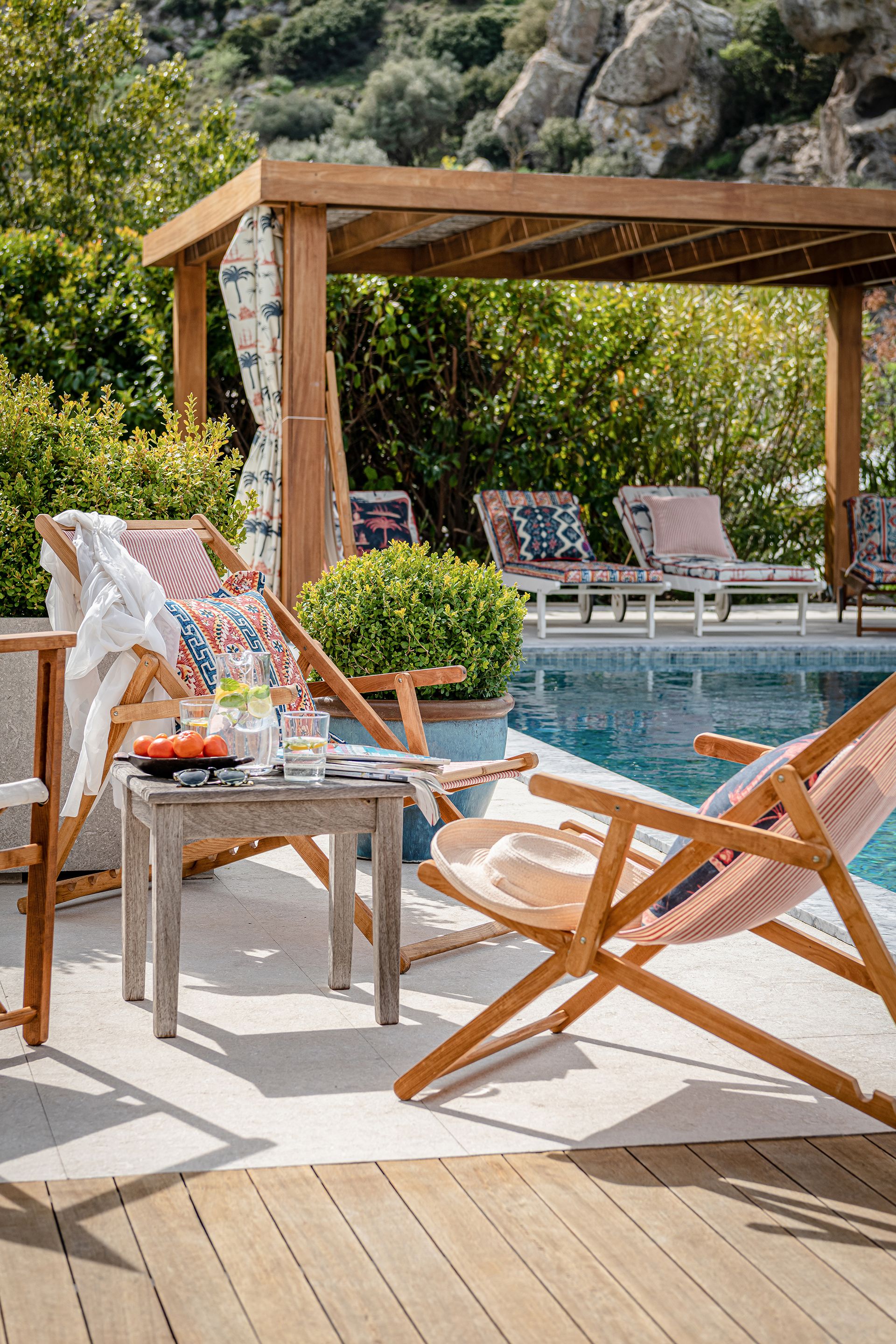 If you have a pergola structure in your garden but are looking for something that offers more shade, try creating your own fabric canopy.
You can secure the fabric over the pergola slats and drape it through over the sides so you have overhead shade and curtains. Choose a beautiful printed fabric for a cool holiday appeal.
Speaking about the fabric above, Stefan Ormenisan, Creative Director and Founder of MindTheGap, says: 'A true Mediterranean-inspired design, the Aegean fabric displays painterly and vibrant sea-inspired scenes with gently waving palm trees and nautical imagery, evocative of calm holiday vibes. The classic blue and white palette reflects the seafaring motifs, contrasted with a touch of lobster red which adds a joie de vivre. 
'The overall feel is one of escapism, perfect for bringing the relaxing feel of a dreamy holiday into your everyday.'         
8. Build your own bamboo canopy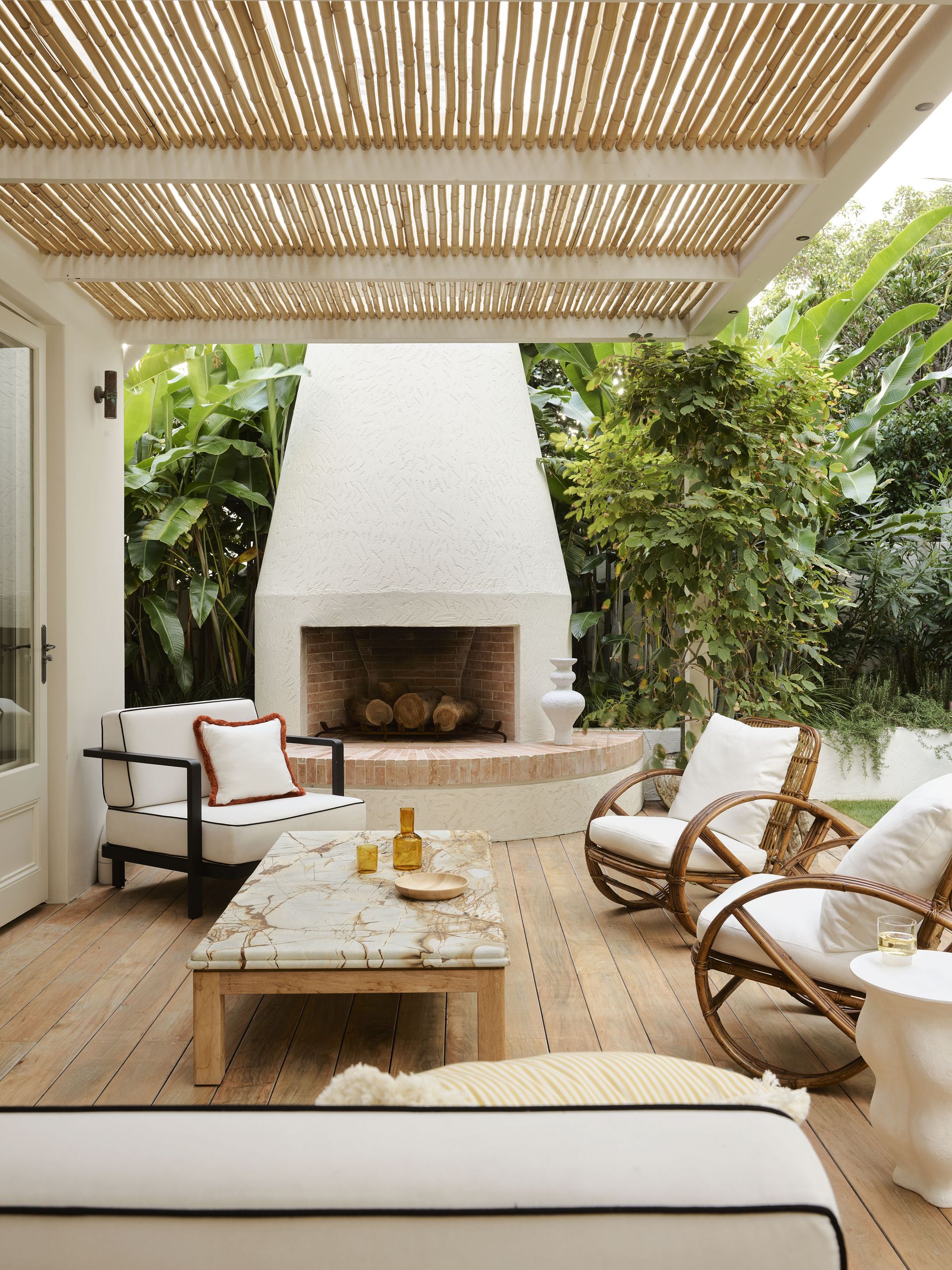 If you want to channel a tropical holiday atmosphere, a bamboo canopy is the perfect choice. A natural material, bamboo will blend seamlessly into the outdoor landscape, and offer an organic luxe aesthetic. As each pole will be unique in shape, the canopy will allow a beautiful, soft dappled light to seep through.
The stunning entertaining area above is part of landscape designer Anthony Wyer's garden. 'Embracing the Mediterranean lifestyle, the resolved design makes the most of the home's breezy indoor/outdoor connection offering a seat to relax in, a table to dine at and the freedom to entertain,' Anthony, creative director of Wyer & Co (opens in new tab), says.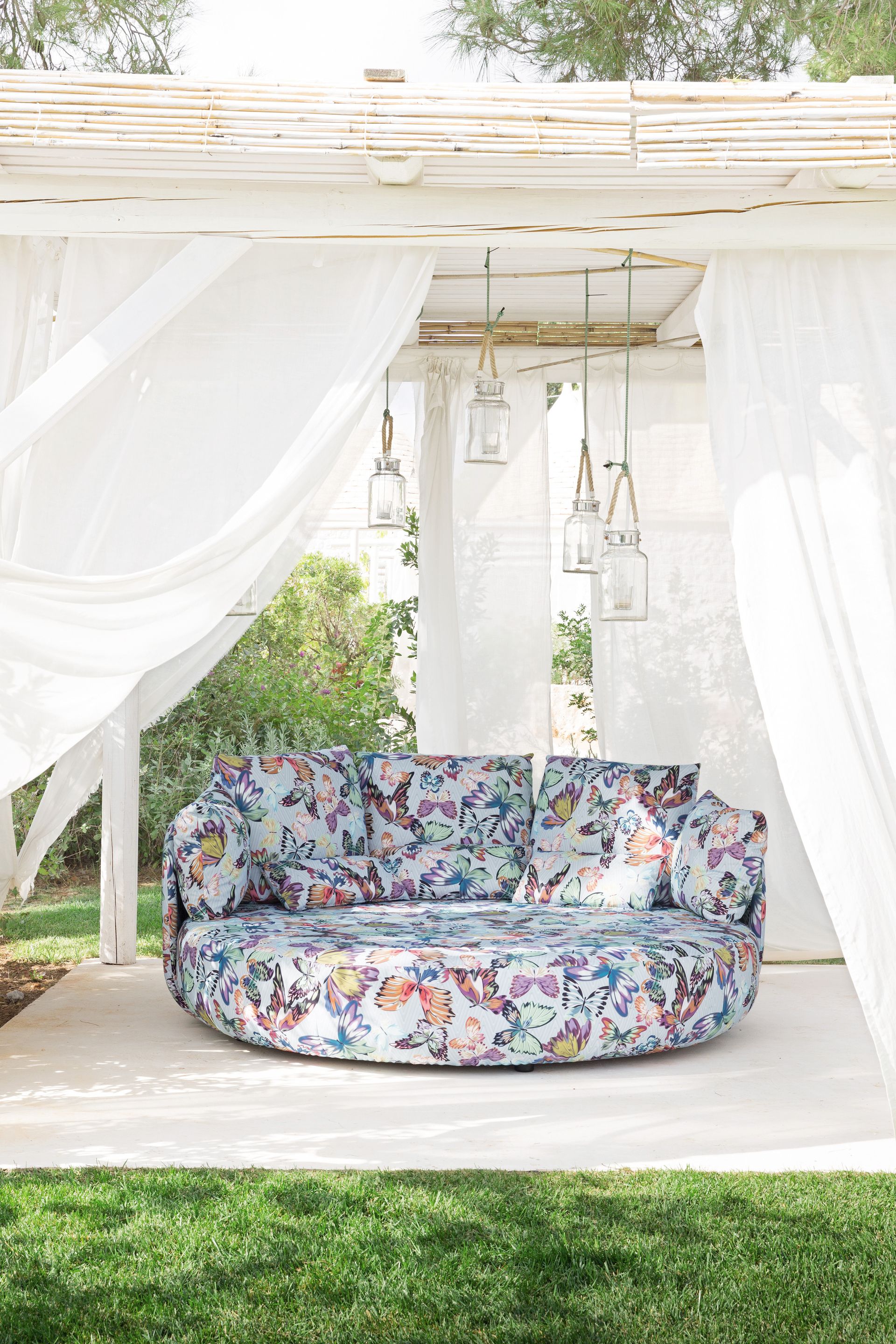 Bamboo is also affordable and durable, and will stand up to the elements. You can leave yours natural or paint it white for a bleached-out Mykonos-style resort vibe.
For extra privacy and shade, add billowy curtains, and style the space with outdoor rugs, comfortable seating and ambient lighting to create an intimate space that's equally perfect for hosting, relaxing or a romantic date night.
Get inspired to make your own here (opens in new tab).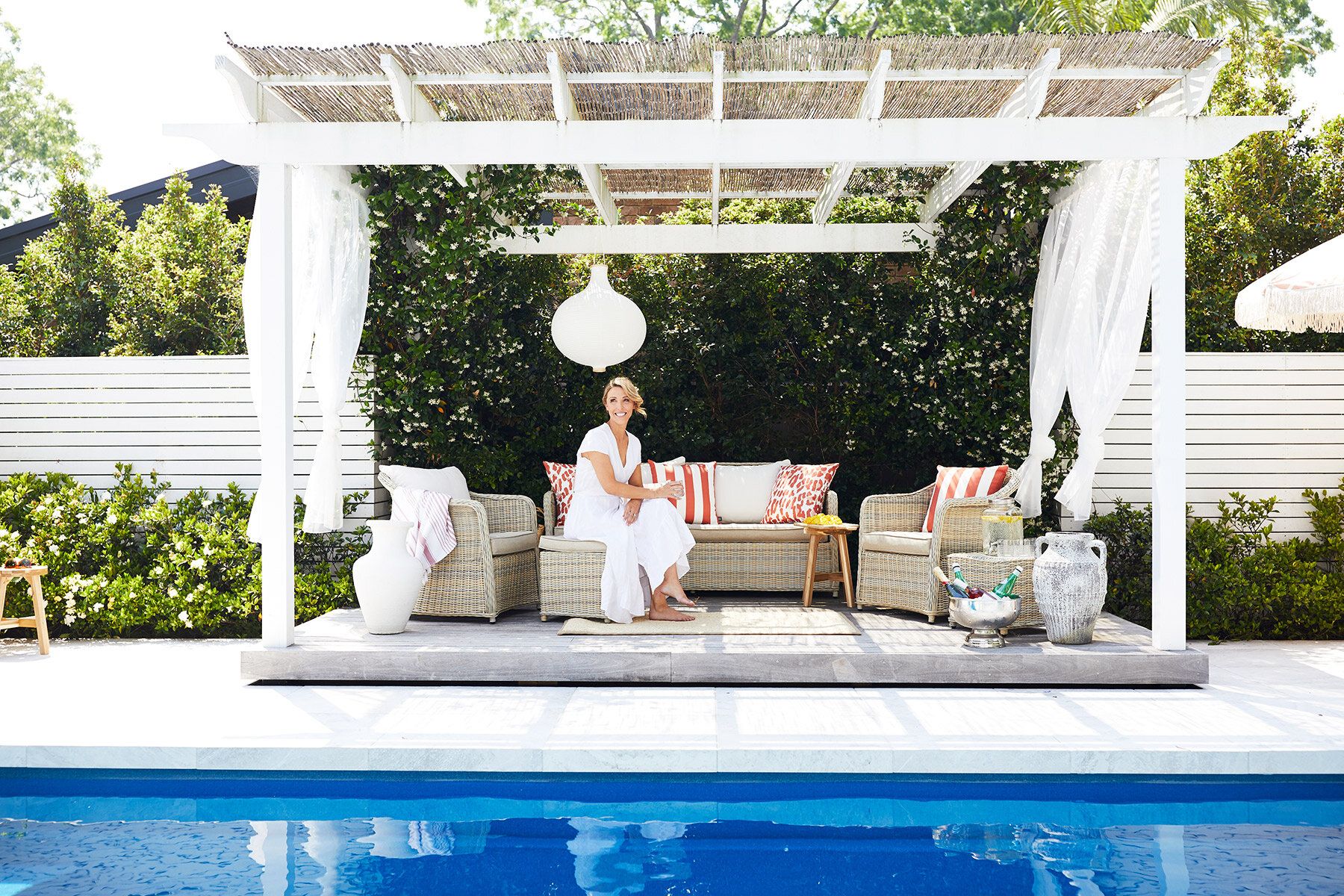 If you'd like to create your own but don't want to make the whole thing from scratch yourself, make like Milly Hall, of Three Bird Renovations (opens in new tab), and buy the separate pieces to put together.
She says of her beautiful poolside cabana with bamboo canopy (above): 'Our builder created a simple structure for the pergola, we added a bamboo roof that we bought already made and, then, to provide some shade and some whimsy, sheer curtains from IKEA to bring the coastal vibes we love.'